Automating the loading and unloading of your machines using Kinemetrix Agile Automation Solutions has the following benefits:
Quick changeover for low volume/high mix production runs
Fully integrated systems for unattended operation and multiple shift production
Infeed parts presentation solutions for any part
A wide range of inspection techniques to detect out-of-spec parts and processes quickly
Upstream and downstream processes such as cleaning, finishing and assembly can be integrated
FLEXIBILITY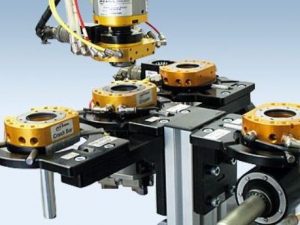 Anticipating future production changes is challenging. Kinemetrix Agile Machine Tending solutions are designed with flexibility in mind to:
Address low volume/high mix production runs requiring rapid changeovers
Fit any size operation from job shops to large manufacturing operations. These systems can be expanded as production volumes increase
Be easily relocated on mobile docking bases
Match your application requirements by using floor-mounted, collaborative or overhead rail mounted robots
SMALL PARTS PRESENTATION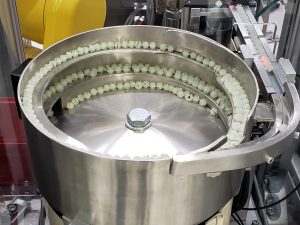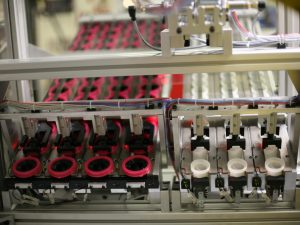 Simple Feeding:
Standard small parts presentation methods can be deployed including:
Vibratory Bowls & Tracks
Tray Feeders
Step Feeders
Brush Feeders
Centrifugal Feeders
Chutes
Custom Feeding:
Agile Feeding solutions utilizing robots, machine vision and clever mechanical design are able to handle a wide variety of parts. Find out more here.
Robotic Bin Picking can reduce material handling costs by allowing robots to pick parts directly from totes and bins. 3D vision and sophisticated path planning are used to guide the robot. Find out more here.
LARGE PARTS PRESENTATION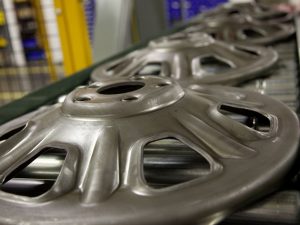 Kinemetrix can design and integrate different methods to present large parts to your machines including:
Conveyors
Positioners
Shuttles
Pallet Feeders
PART MARKING AND TRACKING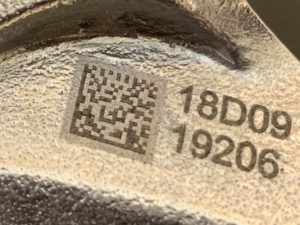 Our machine tending systems will track your parts and add serial numbers and lot codes using technologies such as:
Laser Marking
Pin Stamping
Inkjet Printing
Print and Apply Labeling
INSPECTION & TEST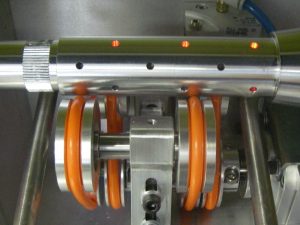 Automated in-process inspection is necessary to avoid passing defective parts to the next operation. Parts can be inspected both before and after the machine. Kinemetrix has experience developing all types of inspection and test solutions. Find out more here about the variety of automated inspections that are available.
PART OUTFEED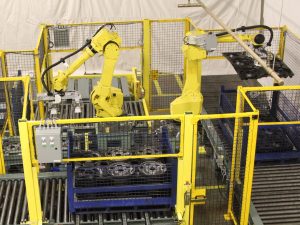 Custom part outfeeds can be designed and integrated including:
Conveyors
Part Storage Racks
Packaging Lines
Palletizing Systems
Dunnage Handling
Robots can be equipped with multiple end-of-arm-tools to pass parts from one operation to the next, minimizing floorspace and hardware costs.