Kinemetrix laser welding solutions are configured as stand-alone machines or integrated into larger assembly systems.  Our Through Transmission Laser Welding (TTLW) systems are delivered fully tooled and process development is done in collaboration with our customers' engineering staff.  The team ensures that the process meets specifications, including:
Proper fusion & mechanical strength
Leak tight requirements
Production rates
Part Tooling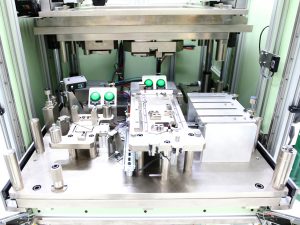 TTLW relies on achieving gap-free part contact at the weld interface.  Kinemetrix laser weld tooling is carefully designed to provide the even, consistent pressure required for repeatable results.  Our goal is to open the process window as wide as possible by designing the tool to be tolerant of component part variation while still providing good pressure at the weld interface.
Excellent Path Accuracy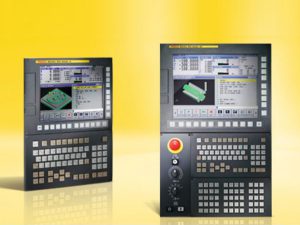 When the laser welding path is more complex than a single axis, the path accuracy of the motion system will make or break your system.  Kinemetrix uses CNC motion control on multi-axis systems to be sure the beam is in the right place, every time.  Benefits include:
Excellent path accuracy around corners and other shapes
Maintain linear travel speed around corners so the laser weld process is consistent
Vary speed or weld power at various points along the path if the process requires
Simple G Code path programming
Commonality in control interface with other CNC machines in your plant
Laser Equipment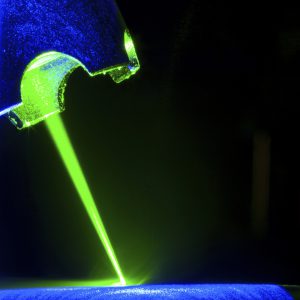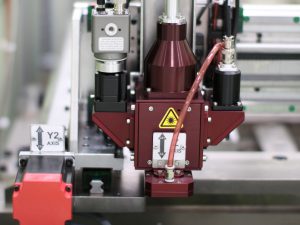 The choice of laser power source is made based on the welding task to be performed.  Several manufactures make excellent fiber lasers in the 100 to 200 watt power range, and these are often the right choice for TTLW applications.  Kinemetrix can review your application and make a recommendation.
Kinemetrix will configure a laser focusing head to the needs of the application.  Simple applications may only need beam focusing optics.  Upgrades include:
In-head power monitoring,
In-line camera port for remote viewing
Air curtain for spatter protection.
All Kinemetrix heads are mounted on a high-quality adjustment mechanism that allows precise adjustment of head angle and standoff.