Packaging & E-commerce Automation
FLEXIBLE & FAST TO MEET TODAY'S CHALLENGES
Customers expect orders to ship quickly, accurately and without product damage. You need to do it with minimal labor at high volumes.
Kinemetrix designs and builds machines that produce & validate complex products. We develop intelligent, flexible automation for non-standard applications that cannot be solved with cookie-cutter solutions.
We work closely with your packaging engineers to smooth the transition from manual to automated packaging. Flexibility is designed in to allow order customization and to future-proof your equipment against product changes.
Contact us to discuss how we can develop a system that exceeds your needs.
End of line packaging & palletizing

Food products
Beverages
Cosmetics
Personal care items
Tool kits
Medical devices

Logistics automation

Order picking for e-commerce fulfillment
Warehouse material movement using mobile robots
Reverse logistics for processing returned items
Depalletizing of incoming products
Picking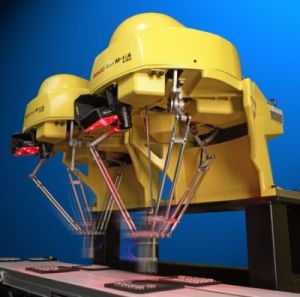 Our picking solutions maximize flexibility by using:
2D or 3D machine vision
High-speed vision-guided robots
Using these tools, we can pick from:
Moving conveyors
Pallets
Racks
Bins & Totes
Products delivered by Autonomous Mobile Robots (AMR)
We also supply & pick from traditional feeding mechanisms such as: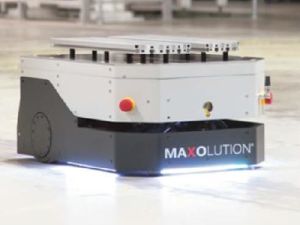 Bowl feeders with vibratory tracks & hoppers
Tray feeders
Magazine feeders
Fixtured, indexing conveyors
Part validation can be incorporated into the picking operations. Examples include:
For primary packaging applications in washdown environments, your system needs to be built to withstand caustic cleaning solutions and high-pressure spraying. To meet GMP requirements that ensure safety of your products, we apply sanitary design principles to engineer and select the proper equipment and materials, such as:
Robots
Conveyors
Motors
Inspection equipment
Control panels
Lubricants
Packing & Kitting
Products picked can then be packed. Loading of a wide variety of packaging formats and machines is available: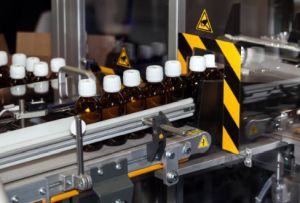 Cartoners (horizontally and vertically loaded). We can supply both product loading systems and carton magazine loaders
Pouch form/fill/seal machines
Blister pack machines
Vacuum pack machines
Shrink and flow wrapping machines
Fixtures or totes on Autonomous Mobile Robots (AMR)
Kits and custom packages can be assembled using vision-guided robots, agile end-effectors and flexible feeding technologies. We can build systems to pack multiple items into trays, boxes, pouches, racks and other package styles. These systems can also create unique configurations of items in individual packages on an order-by-order basis.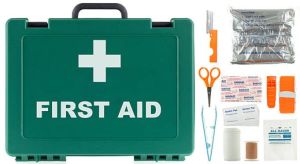 Kits can be used to group parts to support just-in-time manufacturing in your plant or packaged for shipping to your customers. Machine vision systems and barcode readers verify the correct components have been packed.
Examples of kits that can be assembled include:
Tool kits
Medical supplies
Cosmetics
Automotive parts
Personal care items
Kinemetrix will supply fully integrated case packing lines, including product and case handling devices like: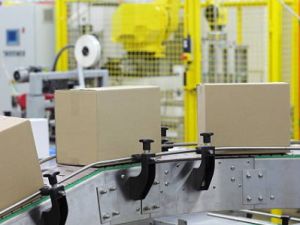 Timing screws
Package collators
Layer formers
Case erectors
Tray formers
Case squaring and flap control devices
Case closing and sealing machines
Validation & Tracking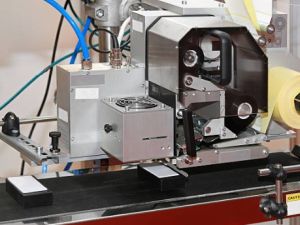 Kinemetrix will add the validation steps you need to measure, mark, label, verify and trace your product or package. Whether you need to verify that the correct tools are present in a kit or need to detect contamination inside a sealed package, we can provide the right technologies.
Laser marking
Print and apply labeling
Machine vision systems (including machine learning for complex image analysis)
Barcode reading
Check weighing
Metal detection
X-ray inspection
Palletizing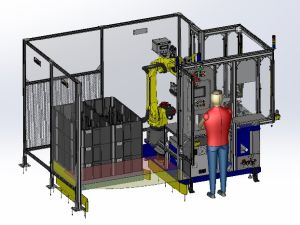 Kinemetrix provides a variety of palletizing and depalletizing solutions. Systems are custom engineered to your unit load and to fit in the space available in your factory. We can handle a wide range of parts and products:
Corrugated cases
Automotive wheels
Sheet metal blanks
Electronic modules
Dunnage such as returnable trays, totes, dividers and layer sheets
We will finish the production line for you with unit load preparation equipment:
Stretch wrappers
Corner board applicators
Labelers
Banders