Media
Kinemetrix Engineers are experts in industrial robot integration.  Multi-axis robots are a pillar of our Agile Automation philosophy.  Robots provide flexibility and adaptability to machine design that is not easily achieved otherwise.
Some important ways that robots empower better system designs include:
2D and 3D Vision guidance allows fixture-less handling
Ability to track moving conveyors for picking & placing parts
Handle multiple part varieties with no operator changeover
Easy reorientation of parts for loading sequential operations
You can see some examples of our agile robotic assembly solutions here.
A Size for Every Job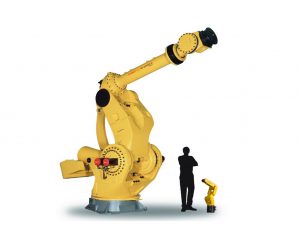 Whether it's picking up a watch spring or a car body, there's a robot for the task.  Robots are available with payloads from 0.5 kg to 2,300 kg.  At every size, a multi-axis robot provides superior flexibility, more freedom in system concept, fast deployment, high performance and high reliability.
Collaborative Robots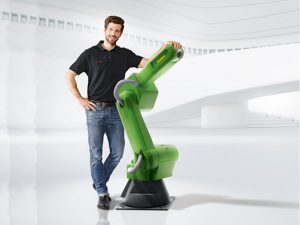 We now have the ability to provide systems with inherently safe cobots working side-by-side with humans.  Fanuc's CR series of collaborative robots bring the necessary accuracy, reliability and payload.
Safety Functions
Stops safely when it comes in contact with a human operator.
Safe and gentle green cover reduces impact forces and pinch points by providing a soft barrier between a human operator and the robot arm.
Certified to meet the requirements of international standard ISO 10218-1
FANUC Authorized System Integrator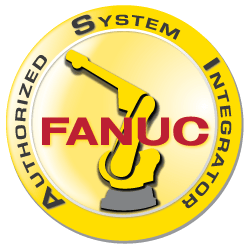 The advances in robot hardware and software capability are moving at a fast pace.  Optimal system designs require knowledge of all the capabilities of a robot.  Kinemetrix has made a commitment to Fanuc Robotics to maintain a deep level of product knowledge.  We also have a long track record of trouble-free system launches for our customers.  In turn, Fanuc has made Kinemetrix an Authorized System Integrator for their products.
Visit the Fanuc Robotics website to learn more about our partner.
Kinemetrix is also a member of these automation industry organizations: