MEETING THE EV MANUFACTURING CHALLENGE
Life as a manufacturer of electric vehicle components is an exciting one.  OEMs are racing to launch EV products while the underlying technologies evolve at a rapid pace.  The folks in the marketing departments seem to be well into their third martini when projecting sales volumes.  And everyone is looking at you to stand up a manufacturing line for a part that only exists in CAD.
If you are asking yourself these questions, Kinemetrix can help you with the answers.
Where do I find expertise on cutting edge processes?
How can I scale my investment with actual volume?
How do I buy equipment when product designs are rapidly changing?
Split Segmented Stators & Hairpin Stators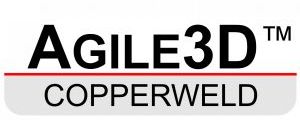 As OEMs seek performance and efficiency improvements, motor designs are becoming more difficult to manufacture.
Stators designed with Segmented Cores and Segmented Coils provide performance gains but require manufacturing processes to join the coils.
Stators designed with Rectangular Wires – Hairpin, I-Pin, and others – offer their own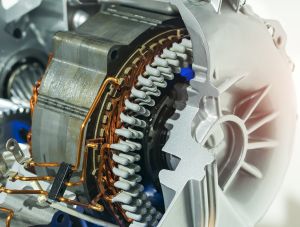 performance advantages, but present even greater manufacturing challenges. The coils are now replaced with individual bent wire segments, dramatically increasing the joint count.
The copper joints of these stator configurations are very challenging to weld.  The position of the leads are not consistent.  As a result, weld gaps and torch standoffs can vary greatly, and just one bad weld can scrap a valuable part.  The task is beyond the capability of most welding processes.
Agile3D CopperWeld solves the challenge of joining small copper leads.  It can:
Weld rectangular wire leads of Hairpin Stators
Weld wound bobbin leads to the bus rings of Segmented Coils
Weld wound coil leads to the bus rings of Segmented Stators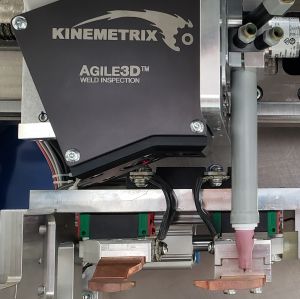 With Agile3D CopperWeld, a high frequency TIG torch is combined with 3D vision to weld and inspect, combining all these functions into a single machine.
Locate copper leads in 3-dimensional space
Judge the leads for weldability
Guide the weld torch to a position optimized for the lead condition
Join the leads
Inspect the resulting weld
Permanent Magnet Rotors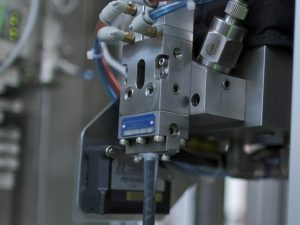 Permanent Magnet AC Motors have advantages over standard AC Induction Motors, but a PMAC Rotor requires very different manufacturing processes.
Agile Feeding is good choice for PMAC Rotor magnet installation.  These magnets are small, easily damaged and vary in size.  Our Agile Feeding solutions are designed for high-variety feeding of delicate components.   Machine vision provides robot guidance and inspection of components before loading.
PMAC magnets must be bonded to the rotor during the assembly process.  This is typically done with 2-part adhesives that present several challenges.
Very small dispense volumes with tight tolerances
Tight tolerances on mix ratios
Mixed material that will clog dispense nozzles quickly
Kinemetrix 2-part adhesive dispensing systems provide excellent process control.  That includes:
Temperature controlled supply tanks with agitation
Servo driven, dual piston dispensing heads with mixing nozzles
Automated nozzle wiping
Automated tip geometry check
Automated dispense weight check
Purge station
Electronic Module Assembly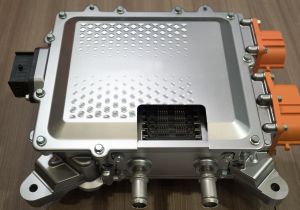 Electric vehicle powertrains require sophisticated electronics for system monitoring, traction motor control, battery charging and more. Examples include:
Inverters
DC-DC converters
Power control units
Power modules
Battery management systems.
Designers are combining high current busbars with delicate power modules, circuit boards and capacitors into ever-smaller cases. Manufacturing an EV electronic module requires a long list of processes.
Assemble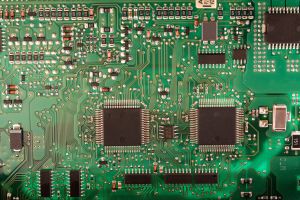 Robots pick and insert the dozens of parts that make up a module.  Each part is verified before assembly and inspected after assembly.  Robotic insertion examples include:
Power modules
Capacitors
Retaining clips
Busbars
PC boards
Bases and covers
Fasten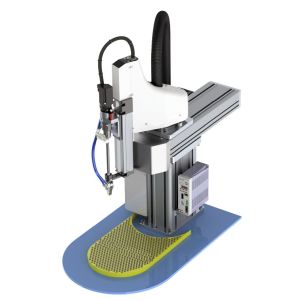 Electronic module assembly requires a lot of screw driving and nut running after the components are inserted.  Kinemetrix uses sophisticated servo driven heads that monitor torque, turns and distance as they drive the fastener.
Weld & Inspect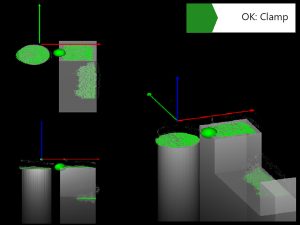 Agile3D CopperWeld provides the capability needed for fusing the small copper leads in an inverter assembly.  It is the right choice for:
Welding capacitor leads to busbars
Welding power module leads to busbars
Other copper lead welding tasks
Agile3D CopperWeld verifies the condition and position of the leads prior to welding.  The system will only weld conforming leads and avoids scrapping an expensive assembly.
Non-conforming leads can be manually reworked and the inverter reintroduced.  The system automatically returns to the unwelded leads for verification and welding.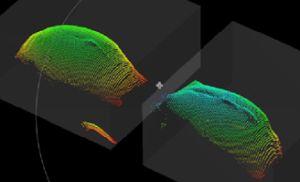 After welding, the same 3D imaging system that verified the separate leads inspects the joined leads for conformance.
Dispense & Inspect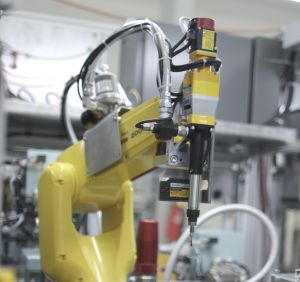 Servo controlled dispense heads are integrated with robot motion to provide accurate and repeatable beads.  This process is ideal for:
FIPG with complex path shapes applied to narrow housing flanges
Thermal grease dispensing on heat sinks
Two-part epoxy dispensing of potting material to encase electronic components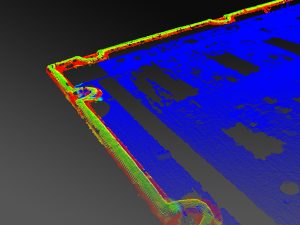 3D machine vision measures along the entire bead path, enabling inspection of all key characteristics:
Bead position
Bead width
Bead height
Voids & skips
Adhesive Cure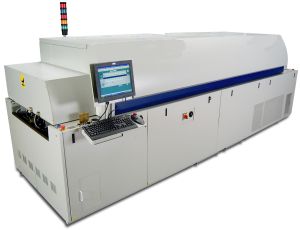 Many of the materials dispensed during assembly require a curing cycle.  Conveyor ovens and cooling tunnels are added for curing adhesives within the time & temperature profiles required.  Electric forced air and infrared ovens are most commonly used.  Process controls and the integral traceability system ensures that each part experiences the required thermal cycle.
Leak Test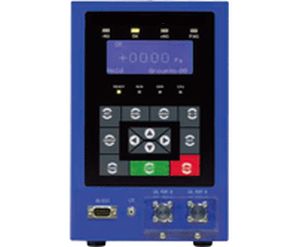 The housings and cooling passages of electronic modules must be verified as leak tight before an inverter can ship. Kinemetrix has testing solutions for in-process leak testing and testing of completed inverters.
Fixtures are robotically loaded and unloaded.
Seals extend and retract automatically to connect high-precision test circuits to the part.
All test results are stored in the traceability database.
Manufacturing Lines
Manufacturing lines built by Kinemetrix have advantages over competing assembly line approaches.
Scalable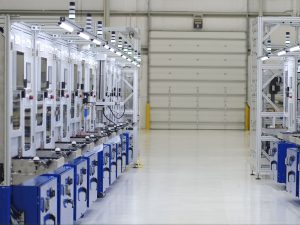 Kinemetrix's Modular Manufacturing Lines provide the scalability needed to grow your manufacturing capacity as OEM sales volumes rise.
Each self-contained module:
Accepts a part into one side
Releases a processed part out the other.
In this manner, the modules are stacked side-by-side to configure your manufacturing line.  The modules are designed to communicate to their neighbors for material movement and communicate with your MES system for data traceability.
This approach allows the initial investment to be limited to the minimum hardware required to do the process steps.  As volume increases, additional modules can be slid into place.  For example, if welding is the limiting factor, we can add a welder.  If screw driving becomes the next bottleneck, another screwdriving module is added.
Agile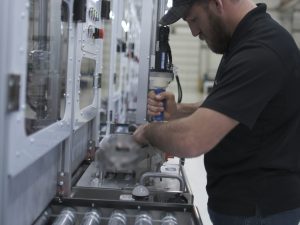 Kinemetrix's Modular Manufacturing Lines are Agile!  They protect your investment with their inherent flexibility and adaptability.
Pallet based part movement enables a wide range of products to run on the same line.
Manual Operations Allowed. Pallets can be passed out and back into the machine, allowing an operator to perform an operation that would not be cost effective to automate.
Protection from Design Changes. If a new product design demands a brand-new process right between your OP 50 and OP 60, its no problem.  The line can be stretched and a new self-contained module slid into place.