Media
High speed assembly & test of complex products requires many different technologies.  With Kinemetrix's Agile Automation, you get:
Flexibility to assemble a variety of product versions on the same line
Minimal changeover time
In-process inspection of each assembly step
Joining Technologies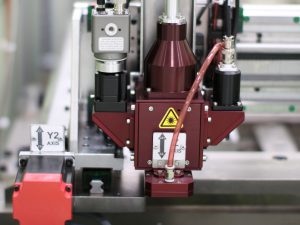 Assembling requires joining, and Kinemetrix can automate the ones that your product needs. Process monitoring can also be included to detect errors. Processes include:
Press and Snap Fit with Force and Displacement Monitoring
Mechanical Fastening with Torque and Displacement Monitoring
Deformation Fastening
Clip Insertion
Single Part Adhesives such as hot melt or RTV
Two-Part Adhesives such as Urethane with temperature, humidity and ratio controls
Ultrasonic welding
Heat staking
Part Infeed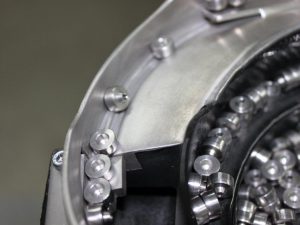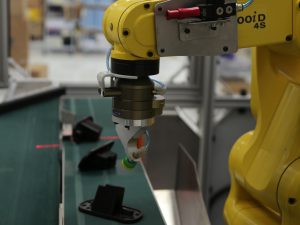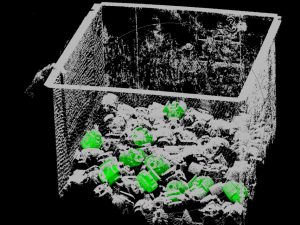 Parts to be assembled must first be presented to the automation.  Kinemetrix uses traditional methods where appropriate.  These include:
Conveyors
Pallets & Trays
Vibratory Bowls & Tracks
Agile Feeding can leverage your investment by allowing the automation to assemble a wide range of products.  Robots, machine vision and clever mechanical design are used to handle a wide variety of parts.  Find out more here.
Robotic Bin Picking can reduce material handling costs by allowing robots to pick parts directly from totes and bins.  3D vision and sophisticated path planning are used to guide the robot.  Find out more here.
Component Inspection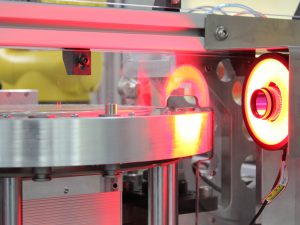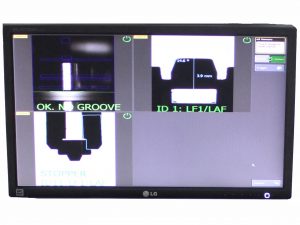 Components are checked before assembly. This is critical when similar-but-different products are made at the same plant. If a component for Assembly A can be mistakenly installed into Assembly B, you need an inspection strategy to avoid hidden defects.
Components are checked using poka yokes, machine vision, laser sensors, color sensors and other technologies to verify:
Correct model
Correct orientation
Dimensions within specification
All required features present (e.g. holes or threads present)
Testing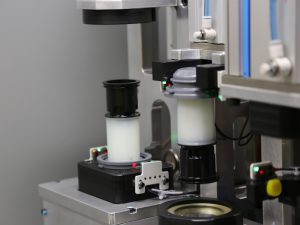 Complex assemblies require a variety of tests to ensure proper operation prior to shipment. Automated assembly systems perform automated testing based on your product requirements.  This includes:
Presence / Absence of Components
Torque & Force Monitoring during assembly
Functional Tests such as Range of Motion or Spring Force
Flow Tests using Positive Pressure or Vacuum
Pressure-Decay Leak Test
Electrical Test
Many others
Automatic Test Validation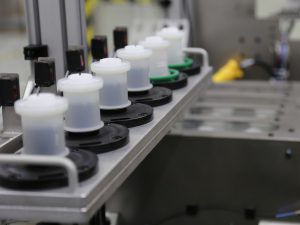 Kinemetrix assembly & test systems are available with Automatic Test Validation.  Parts that represent the boundary conditions of each test are stored in the cell. The automation is programmed to cycle these parts through the line on a schedule, or at the point of product changeover, to validate the performance of the inspection stations.
Data Traceability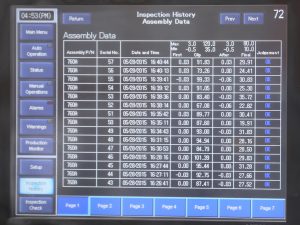 A Kinemetrix assembly system will track the assembly process and build a data record to meet your requirements. This includes:
Assigning Serial Numbers
Laser Part Marking
Part Tracking to verify upstream operations are complete
Process Data Collection at each step
Communication of data records to your MES
Compact, Self-Contained Systems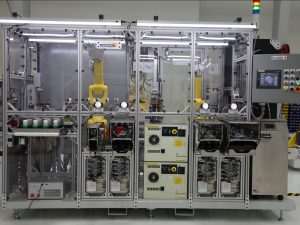 Our assembly and test systems use very little floor space.  The systems contain all the feeding, assembly and test operations on a single compact base.  The system shown here contains the following functions in a package easily lifted and moved by a fork lift.
Feeders for 5 Individual Components
Laser Welding
Snap Assembly with Force Monitoring
Pressure Testing
Flow Testing
Laser Marking
Fume Extraction
Automatic Test Validation
Accumulating Outfeed Conveyor