This most recent shipment from FANUC is part of an advanced 20-robot modular assembly system.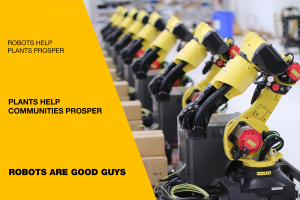 The system assembles EV drivetrain components. Our customer ordered this second assembly line as a result of market success using their first Kinemetrix Agile Assembly system.
Each of these robots have a productive future ahead. Some will go forward to dispense highly accurate adhesive beads using our integrated servo-dispense technology. There will be assemblers. Many look forward to a career in screwdriving. A few will make tens of millions of micro-welds. Some will use our Agile3D™ robot guidance technology to perform "impossible" tasks.
All of them will serve their community and contribute to making Kentucky a hub for advanced manufacturing.
Robots are good guys.