Monozukuri in North America
Making Things
Because you're reading this, you already know that making things is uniquely satisfying.  When we create useful objects, the sense of accomplishment is deeply hardwired. The goal of the craftsperson is to make better quality products, faster, with little wasted motion or material. The Japanese word monozukuri captures that pursuit of perfection through applied know-how. It can also imply lean manufacturing, as embodied by the Toyota Production System.
Because you're reading this in English, there's a good chance you're working in a lean manufacturing environment, in North America. This article shares insights and challenges found working with Japanese manufacturers in North America over three decades, including 10 years at Toyota Motor Manufacturing.
Three reasons why it's so hard…
…to operate a lean manufacturing operation in North America.
Lean manufacturing is not intuitive
American culture is results-oriented
The three D's
Lean manufacturing is not intuitive
It was the end of a long day. I'd been explaining the necessity of a queued (FIFO) product flow in a design we were reviewing. His concept would have to go back to the drawing board. On the drive home, it hit me in a flash of the obvious.
If lean manufacturing were intuitive, there wouldn't be a name for it.

It would just be common sense.
[pause for effect]
Lean manufacturing requires great discipline. Most lean practices are about investing effort up front, so that future work can proceed more efficiently. Until one has experienced the powerful benefits firsthand, it just seems like unnecessary effort.
Clearly, lean methods promote high levels of manufacturing efficiency. If lean is such a powerful competitive advantage, and simple enough for a child to understand, why is it so difficult to implement?
American Culture is Results Oriented
Pop Quiz: Which one of these results is better?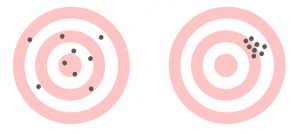 If you're in Columbus, you probably chose the one on the left. Two bullseyes. Some success is better than none, right? Results oriented.
If you're from Nagoya, you may have preferred the results on the right. Only one or two sources of variation remain to be discovered to consistently hit target center, forever. Process oriented.
Practicing lean requires setting aside instant gratification to gain deeper insight and control of a manufacturing process. Delayed gratification with an unclear payoff is a tough sell.
This difficulty extends to cultivating suppliers. Many of the Japanese manufacturers we encounter have long wanted want to localize equipment suppliers for better support and responsiveness. Then eventually abandon the search for North American machine builders because they just don't "get it".
It should be obvious that a machine consumes the least floorspace possible.
Of course you must have single-part-flow to minimize variation and make problems transparent.
No, you can't design a process where the first part after changeover is a disposable "setup part". [Forehead slap]
Components from Fanuc, SMC, Keyence, Nitto-Seiko, Omron, Mitsubishi, Misumi are preferred. Because they're good value and reliable.
We understand your frustration. And we're here to help. You can finish reading this later and contact us now.
The Three D's
Manufacturers have difficulty keeping their plants staffed. Manufacturing continues to have a misplaced reputation of being dirty, difficult, and dangerous. The three D's. Young people in America are not encouraged to learn skilled trades or work with their hands.
Difficulty staffing and high turnover have been problems for the customers we serve for many years. Recently, we've heard from multiple customers who are so short-handed that managers and engineers are on the production line. Not as a genshi-gembutsu exercise. But to fill shipments!
Reports of robots taking jobs are wildly disconnected from reality.
As the economy begins to recover, it'll be difficult for these plants to produce at volume without substantial automation.
Automation Can Help
The spirit of monozukuri can be achieved while automating to adapt to these challenges. Amplified productivity and the reduction of mundane tasks leads to higher job satisfaction and lower turnover. Here are some key points:
Power Tools

Jidoka is the concept of automation with human guidance. Machines should work for people. Not the other way around. The goal of automating is to leverage the talents of your production team by removing mundane tasks from their work. Keep that front of mind.
Automate Process Controls
Invest in a higher level of process control automation. You have to leverage the talent you have to unprecedented levels. Daily checks and manual process condition monitoring is good discipline. It's also time consuming and subject to human error.
The approach of many Japanese manufacturers is to limit capital investment by purchasing systems with minimal features. Then, as the equipment is in production, plant engineers and team members kaizen the process, adding the most relevant features. This is a sound practice. It prevents investing in unnecessary or overly complicated features. It provides manufacturing team members a deep understanding and ownership of the process.
However, when plant output is limited by staffing shortages, there's no available time for these improvements, and lack of automated process controls drags on productivity.
An example of tight process control automation is our approach to robotic dispensing.
Standard process control features include:
Automated tip condition check
Automated Robot Tool Center Point (TCP) setting
Confirmation of pressure before and after metering pump
Positive displacement pump
Servo controlled pump, synchronized with robot motion
Vision guided robot path
3D Vision inspection of bead
Automated tip cleaning
Inline dispense volume check (automatic weighed cup shot)
Automated material drum change
Barcode verification of correct material and batch/lot traceability.
A side benefit is that automated process controls ensure best-practices are followed. We've all seen that machine where 2nd shift sets the knob to 7 and 1st shift turns it back to 4 every morning. That's hidden variation in your product.
This level of automation increases capital investment. But reduces total production costs. To gain these benefits, ROI calculations must include  human resource costs and capacity limitations that are more difficult to measure.
Example applications: https://kinemetrix.com/solutions/electric-vehicles/
Invest in Agililty
Agile Automation, as we defined it 25 years ago, began by recognizing that 80% of the cost of automated equipment is not part-specific. All it takes is creativity and determination to define hard-points between equipment and tooling. This was inspired by observing the press-die relationship in stamping and molding operations. The payback is phenomenal. As a result, our customers succeed, and we grow and prosper together.
Over the years, our definition of Agile has evolved to include tools like  3D vision guided robotics, dexterous gripping, machine learning, and highly advanced controls. And still, it's interesting that the core concepts are more relevant now than ever.
Agile Automation for a Fast Changing World™
[Notes from presentation at Assembly Expo in 2009]
From Here to There

Making things is enormously satisfying.  Making the tools to help 
others
 make things is
meta-
satisfying. If you're looking for ways to leverage your team to the next level, we'd like to help you compete and win. 
Contact us.